Osmotic Shock - Definition, Glossary, Details - Oilgae
Osmotic shock or osmotic stress is a sudden change in the solute concentration around a cell, causing a rapid change in the movement of water across its cell membrane. Under conditions of high concentrations of either salts, substrates or any solute in the supernatant water is drawn out of the cells through osmosis. This also inhibits the transport of substrates and cofactors into the cell thus "shocking" the cell. Alternatively, at low concentrations of solutes, water enters the cell in large amounts, causing it to swell and either burst or undergo apoptosis. Source

Links

Osmotic Shock: The rupture of bacterial or other cells in a solution following a sudden reduction in osmotic pressure. Osmotic shock is sometimes induced to release cellular components for biochemical analysis.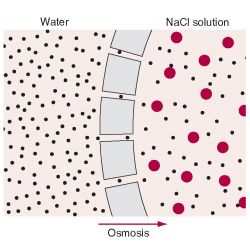 Other Terms