Have you seen Oilgae's comprehensive report on the attractive product and business opportunities from algae?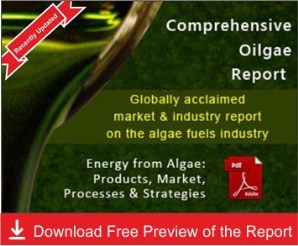 The only report anywhere in the world that scientifically analyses every possible non-fuel product opportunity from algae - in nutrition, animal/fish feed, medicine and pharma, specialty chemicals such as agrochemicals and lubricants, plastics, environmental remediation and more.
Know more about the Comprehensive Algae Business Opportunities report from here .
Flocculation is a method of separating algae from the medium by using chemicals to force the algae to form lumps. The main disadvantage of this separation method is the additional chemicals are difficult to remove from the separated algae, probably making it inefficient uneconomic for commercial use, though it may be practical for personal use. The cost to remove these chemicals may be too expensive to be commercially viable
Flocculants

Flocculants, or flocculating agents, are chemicals that promote flocculation by causing colloids and other suspended particles in liquids to aggregate, forming a floc.Alum and ferric chloride are chemical flocculants used to harvest algae. A commercial product called "Chitosan", commonly used for water purification, can also be used as a flocculant but is far more expensive. The shells of crustaceans are ground into powder and processed to acquire chitin, a polysaccharide found in the shells, from which chitosan is derived via de-acetylation. Water that is more brackish, or saline requires additional chemical flocculant to induce flocculation.
Harvesting by chemical Flocculation is a method that is often too expensive for large operations. Interrupting the carbon dioxide supply to an algal system can cause algae to flocculate on its own, which is called "autoflocculation".
See the following pages on Algae Harvesting: