Have you seen Oilgae's comprehensive report on the attractive product and business opportunities from algae?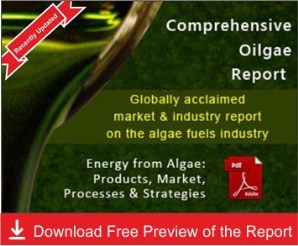 The only report anywhere in the world that scientifically analyses every possible non-fuel product opportunity from algae - in nutrition, animal/fish feed, medicine and pharma, specialty chemicals such as agrochemicals and lubricants, plastics, environmental remediation and more.
Know more about the Comprehensive Algae Business Opportunities report from here .
Oilgae blog

Oilgae blog will enable young minds and researchers to update themselves with the current happenings in this industry. What you will find here is a repository of knowledge which can be so valuable to share with people of the same interests..Oilgae blog is well categorized which will help the researchers and students to read news articles and blog posts specifically related to their need. Some of the blog categories which might be of interest are

Oilgae forum

Researchers and Students using the oilgae forum can invite interactions on topical news and developments on algae biofuels by interacting with the algae enthusiasts all around the world. Contacts can be developed with many experts and scientists in India as well as overseas to analyze the latest developments in this domain. Oilgae provides an exchange of ideas with other people, who will inspire you to new ideas on your own tasks.


Post your questions on algae fuel here -http://www.oilgae.com/forum/

Oilgae submissions

This is one such interesting section which will enable the young minds and researchers to decipher more about the type of research done in this domain. This section will allow students and researchers to publish their findings. Please submit your articles here- http://www.oilgae.com/ref/sub/sub.html
Algae Fuels Report for Academic Researchers & Students
This report is a customized edition for academic researchers, and students. The Oilgae Report Academic Edition provides research insights on new methodologies, perspectives and experiments on how best to derive energy from algae. Put simply, this report consists of all aspects of algae biofuels in a nutshell, which will enables researchers and young minds to decipher more about the algae biofuel industry.
The report highlights research efforts having a focus on biofuels and bio-energy.
· It provides extensive details on research efforts done by hundreds of universities in this domain
· It presents numerous case studies and examples of what the pioneers are doing in the algae energy domain.
· It showcases case studies on algae research efforts in areas such as waste water treatment, CO2 sequestration at power plants.
· It lists algae culture centers, from where students and researchers can obtain algae strains.
· It provides current and future research areas in algae energy domain.
· It lists companies involved in algae energy commercial research, enabling students and researchers to get in touch with them for industrial collaborations
· It provides details, for researchers, on pathways and technologies for alternative energy products – not just biodiesel - from algae.
· It has a specific emphasis on patents and research papers that have been published in this domain
More details about the report - http://www.oilgae.com/ref/report/academic/academic_report.html