Have you seen Oilgae's comprehensive report on the attractive product and business opportunities from algae?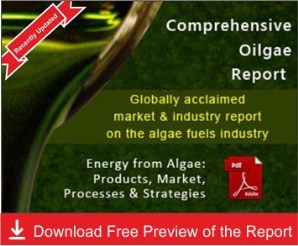 The only report anywhere in the world that scientifically analyses every possible non-fuel product opportunity from algae - in nutrition, animal/fish feed, medicine and pharma, specialty chemicals such as agrochemicals and lubricants, plastics, environmental remediation and more.
Know more about the Comprehensive Algae Business Opportunities report from here .
Algae can be grown cheaply in Saltwater Ponds of the desert or even more efficiently in proprietary photobioreactors (which solve a lot of the problems encountered in open ponds for a few more dollars on the initial investment). It's conceivable that the photobioreactors could be placed in a desert environment, although one of the challenges for growing algae is to keep the water at a very consistent temperature of around 70 degrees Fahrenheit so that will likely also influence optimal placement of the photobioreactors.

The primary inputs for growing algae are water, CO2, and sunlight. This activity would be best accomplished closer to the desert, where seasonal sunlight levels and temperatures don't vary as much as they do further away from the equator. Another possible method to increase production would be to put the photobioreactors near a conventional coal-burning electric plant and harvest the significant amounts of CO2 generated by the plant. As attractive as it sounds, the production of Biodiesel shouldn't depend on the coal plant operating indefinitely since that wouldn't be a sustainable long term strategy.


Algae strains suitable for the desert cultivation includes,
Haematococcus pluvialis
Microcoleus vaginatus
Chlamydomonas perigranulata
Synechocystis
Valcent's HDVB Bioreactor system can be deployed on Non-arable land requires very little water due to its closed circuit process, does not incur significant labor costs and does not employ fossil fuel burning equipment.
Number of companies such as Petrosun and BioFields are considering large scale algae farms in desert regions
See the following pages in Algae Cultivation:
Related Blog Posts
Related Forum Discussions