Have you seen Oilgae's comprehensive report on the attractive product and business opportunities from algae?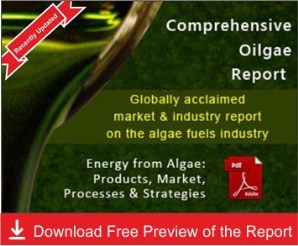 The only report anywhere in the world that scientifically analyses every possible non-fuel product opportunity from algae - in nutrition, animal/fish feed, medicine and pharma, specialty chemicals such as agrochemicals and lubricants, plastics, environmental remediation and more.
Know more about the Comprehensive Algae Business Opportunities report from here .
Flat-plate photobioreactors have received much attention for cultivation of photosynthetic microorganisms due to their large illumination surface area. The work presented by Milner (1953) paved way to the use of flat culture vessels for cultivation of algae. Following this work, Samson and Leduy (1985) developed a flat reactor equipped with fluorescence lamps. A year later, Ramos de Ortega and Roux (1986) developed an outdoor flat panel reactor by using thick transparent PVC materials. As time went on, extensive works on various designs of vertical alveolar panels and flat plate reactors for mass cultivation of different algae were reported (Tredici and Materassi, 1992; Hu et al., 1996; Zhang et al., 2002; Hoekema et al., 2002).
Generally, flat-plate photobioreactors are made of transparent materials for maximum utilization of solar light energy. Accumulation of dissolved oxygen concentrations in flat-plate photobioreactors is relatively low compared to horizontal tubular photobioreactors. It has been reported that with flat-plate photobioreactors, high photosynthetic efficiencies can be achieved (Hu et al., 1996; Richmond, 2000). Flat-plate photobioreactors are very suitable for mass cultures of algae.
Prospects
Large illumination surface area
Suitable for outdoor cultures
Good for immobilization of algae
Good light path
Good biomass productivities
Relatively cheap
Easy to clean up
Readily tempered
Low oxygen buildup.
Limitations
Scale-up require many compartments and support materials
Difficulty in controlling culture temperature
Some degree of wall growth
Possibility of hydrodynamic stress to some algal strains.
See the following sections in photobioreactor: