Have you seen Oilgae's comprehensive report on the attractive product and business opportunities from algae?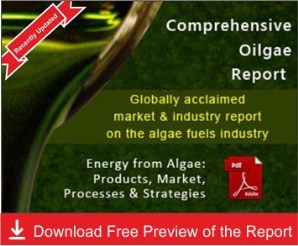 The only report anywhere in the world that scientifically analyses every possible non-fuel product opportunity from algae - in nutrition, animal/fish feed, medicine and pharma, specialty chemicals such as agrochemicals and lubricants, plastics, environmental remediation and more.
Know more about the Comprehensive Algae Business Opportunities report from here .
Cement plants generate concentrated amounts of carbon dioxide producing 1.25 metric tons of CO2 for every ton of cement produced. On average each plant produces 100,000 tons of CO2 per year. According to the Intergovernmental Panel on Climate Change, there are more than 1,175 cement production facilities globally that in 2000 collectively generated 932 million tons of CO2.
Because cement plants generate copious amounts of CO2, and many are located in tropical or subtropical regions of the world, they are ideal candidates to take advantage of algae technology to convert stack gasses to algae oil.

Several companies such as HR Biopetroleum, Pond Biofuels and ACC formerly known as Associated Cement Companies are also working on using the exaust gas from cement plant to produce algae.

See the following sections in Cultivation of Algae for CO2 Sequestration:

More links on Algae Cultivation Near Cement Plant