Oil extraction from algae is a hotly debated topic currently because this process is one of the more costly processes which can determine the sustainability of algae-based biodiesel.
In terms of the concept, the idea is quite simple: Harvest the algae from its growth medium (using an appropriate separation process), and extract the oil out of it. Extraction can be broadly categorized into two methods:
The mechanical methods are further classified into:
Expression/Expeller press
Ultrasonic-assisted extraction
The chemical methods are further classified into:
Hexane Solvent Method
Soxhlet extraction
Supercritical fluid Extraction
Each of these methods has drawbacks:
The mechanical press generally requires drying the algae, which is energy intensive
The use of chemical solvents present safety and health issues
Supercritical extraction requires high pressure equipment that is both expensive and energy intensive.
Many manufacturers of algae oil use a combination of mechanical pressing and chemical solvents in extracting oil.
Apart from these, there are some other methods which are not well-known. This includes the following:
Enzymatic extraction - Enzymatic extraction uses enzymes to degrade the cell walls with water acting as the solvent, this makes fractionation of the oil much easier. The costs of this extraction process are estimated to be much greater than hexane extraction.
Osmotic shock - Osmotic Shock is a sudden reduction in osmotic pressure, this can cause cells in a solution to rupture. Osmotic shock is sometimes used to release cellular components, such as oil.
CHALLENGES IN OIL EXTRACTION FROM ALGAE:
Microscopic algae suspended in water are virtually indestructible


Cell wall has a high elasticity modulus
Even when free water has been removed, wet biomass retains sufficient interstitial water to act as lubricant

Rupture of cell wall through mechanical friction and steam explosion is only possible when dry
BREAKTHROUGHS IN OIL EXTRACTION FROM ALGAE:
a.Single-Step Extraction:
The OriginOil's algae Single-Step oil extraction process is simpler and more efficient than current systems, without requiring chemicals or significant capital expenditure for heavy machinery.
The Single Step Process harvests, concentrates and extracts oil from algae, and separates oil, water and biomass in one step. The process does not use chemicals or heavy machinery and no initial dewatering is required, and separates the oil, water and biomass in less than an hour. The company's Quantum Fracturing technology combines with electromagnetic pulses and pH modification to break down cell walls and release oil from the algae cells.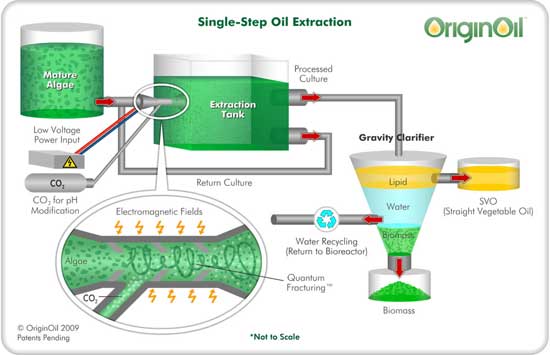 OriginOil's Single-Step Algal Oil Extraction
b. Continuous algal oil extraction system:
Cavitation Technologies Inc. (CTI) has developed a technology that is able to extract oil from algae on a continuous basis utilizing cavitation based extraction. CTI's Nano reactor is used to create cavitation bubbles in a solvent material, when these bubbles collapse near the cell walls it creates shock waves and liquid jets that cause those cells walls to break and release their contents into the solvent. The company plans to license the technology to algal fuel developers.
c. Extraction using nanotechnology:
Catilin and Iowa State University - Center for Catalysis (ISU-CCAT), members of the National Alliance for Advanced Biofuels and Bioproducts (NAABB), will build on their pioneering algal oil extraction technology using mesoporous nanoparticles to selectively extract and sequester targeted fuel-relevant and high value compounds within the algal lipid mixture. The balance of the algal oil, which contains free fatty acids (FFA) and triglycerides, will be converted to biodiesel using Catilin's commercially available T300 catalyst. This technology is efficient and solid catalyst provides a cost effective conversion route.
Oil extraction from Algae - A gist from the Oilgae Comprehensive Report
In the Comprehensive Oilgae Report, Oil extraction from algae deals with some of the key concepts like current methods of oil extraction, trends and developments in Algae oil extraction, Efforts and solutions, Challenges.
Oil extraction from algae employs the use of different methods which presents its own advantages and disadvantages. Therefore the prime focus is to overcome these challenges which is an important phenomenon in the production of Biofuel from algae.
Determining the Most Efficient and Cost Effective Extraction Method - The challenge here is that higher the efficiency of the extraction method, the higher is its cost.
Reducing the Energy Requirements for Extraction - Algae oil extraction is quite energy intensive and this is an important challenge to be recognized and addressed.

Efforts: Origin Oil's invention of a method to extract the oil from algae with high energy efficiency that builds on the company's first patent, Quantum Fracturing™, in which ultrasound from intense fluid fracturing breaks down algae cells and reduces the overall energy required for extraction.

High Cell Wall Elasticity - Cell wall and membrane have high elasticity modulus, hence extraction methods need to overcome these.

Efforts: A method of intense sonication of liquids can break the cell structure mechanically and improve material transfer. This effect supports the extraction of lipids from algae.

Insterstitial Water Decreased Extraction Effectiveness - Even when free water has been removed, wet biomass retains sufficient interstitial water to act as lubricant, thus decreasing the effectiveness of extraction, especially with cost-effective methods such as the expeller press. Efforts: Some efforts are working towards direct fermentation of still-wet algae, thereby overcoming the problem of oil extraction
Related Links:
Application of Supercritical Fluids in Extraction of Active Components from Algae and for Biodiesel Production
Novel Solvent Extraction for Extraction of Oil from Algae Biomass Grown in Desalination Reject Stream
Successful Extraction of "Green Crude Oil" from Blue-Green Algae
Extraction of PUFAs Rich Oils from Algae with Supercritical Carbon Dioxide
Microalgal Oil Extraction and In-situ Transesterification
Related Blog Posts
Related Forum Discussions