Have you seen Oilgae's comprehensive report on the attractive product and business opportunities from algae?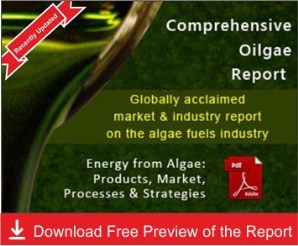 The only report anywhere in the world that scientifically analyses every possible non-fuel product opportunity from algae - in nutrition, animal/fish feed, medicine and pharma, specialty chemicals such as agrochemicals and lubricants, plastics, environmental remediation and more.
Know more about the Comprehensive Algae Business Opportunities report from here .
Flotation

Usually flotation is used in combination with flocculation for
Algae Harvesting
in waste water. It is a simple method by which algae can be made to float on the surface of the medium and removed as scum.
Dissolved Air Flotation

Dissolved Air Flotation (DAF) separates algae from its culture (Kenyan lakes and ponds) using features of both froth flotation and flocculation. It uses alum to flocculate an algae/air mixture, with fine bubbles supplied by an air compressor. Alum is a common name for several trivalent sulfates of metal such as aluminum, chromium, or iron and a univalent metal such as potassium or sodium, for example AlK(SO4)2.
Froth Flotation
Froth Flotation is a method of separating algae from the medium by adjusting pH and bubbling air through a column to create a froth of algae that accumulates above liquid level. The algae collects in a froth above the liquid level, and may be removed by suction. The pH required depends on algal species. Froth flotation and drying are currently considered too expensive for commercial use.

The cost of froth flotation was estimated to be too high for commercial use. Although, the cost may be reduced with further research.

See the following pages on Algae Harvesting: