Have you seen Oilgae's comprehensive report on the attractive product and business opportunities from algae?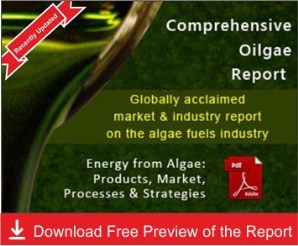 The only report anywhere in the world that scientifically analyses every possible non-fuel product opportunity from algae - in nutrition, animal/fish feed, medicine and pharma, specialty chemicals such as agrochemicals and lubricants, plastics, environmental remediation and more.
Know more about the Comprehensive Algae Business Opportunities report from here .
Seawater is a solution of salts of nearly constant composition, dissolved in variable amounts of water. There are over 70 elements dissolved in seawater but only 6 make up >99% of all the dissolved salts; all occur as ions - electrically charged atoms or groups of atoms:
Composition of Seawater

Chloride(Cl) 55.04 wt%
Sulphate(SO4) 7.68 wt%
Calcium(Ca) 1.16 wt%
Sodium(Na) 30.61 wt%
Magnesium(Mg) 3.69 wt%
Potassium(K) 1.10 wt%


The sea water containing the algae must be cleaned or unwanted types of algae and other contaminants, which may feed or compete with algae, will grow in the culture.
See the following sections in Cultivation of Algae in Marine environment: