Wish to Explore Algae Nutraceuticals Industry?
Read the Only Comprehensive Expert Guide on Algae Nutraceuticals Market




Algae are an excellent source of protein with essential amino acids, vitamins, minerals, essential fatty acids and trace elements. They contain high amounts of simple and complex carbohydrates which provide the body with a source of additional fuel. Owing to its above properties, algae are being widely used in nutraceuticals sector. It is estimated that algae based nutraceuticals market will reach nearly US$ 2.5 billion by 2018.




The growing use of algae biomass for nutraceutical purposes is expected to provide an attractive revenue stream for algae producers. While nutraceutical content in the baseline algae strain is very small, current market values for these products are extremely high.




Physiologically-active nutraceuticals from algae include food supplements, dietary supplements, value-added processed foods as well as non-food supplements such as tablets, soft gels, capsules etc.




With increase in demand for algae based nutraceuticals in recent years, there is no comprehensive report that addresses all aspects of algae based nutraceuticals sector. Oilgae, the premier online resource for all information about algae, has hence brought out this report to assist all the professionals in the industry.




Who will benefit from this report?




Entrepreneurs, industry professionals and nutraceutical companies keen on exploring and venturing into various algae based nutraceutical products will benefit from this report.




What is this report all about?




The report
provides inputs on the brief manufacturing process of key algae based nutraceuticals
provides latest updates on the current and future market potential of algae based nutraceuticals
provides stakeholders with a list of major producers of algae based nutraceutical products and its current and emerging applications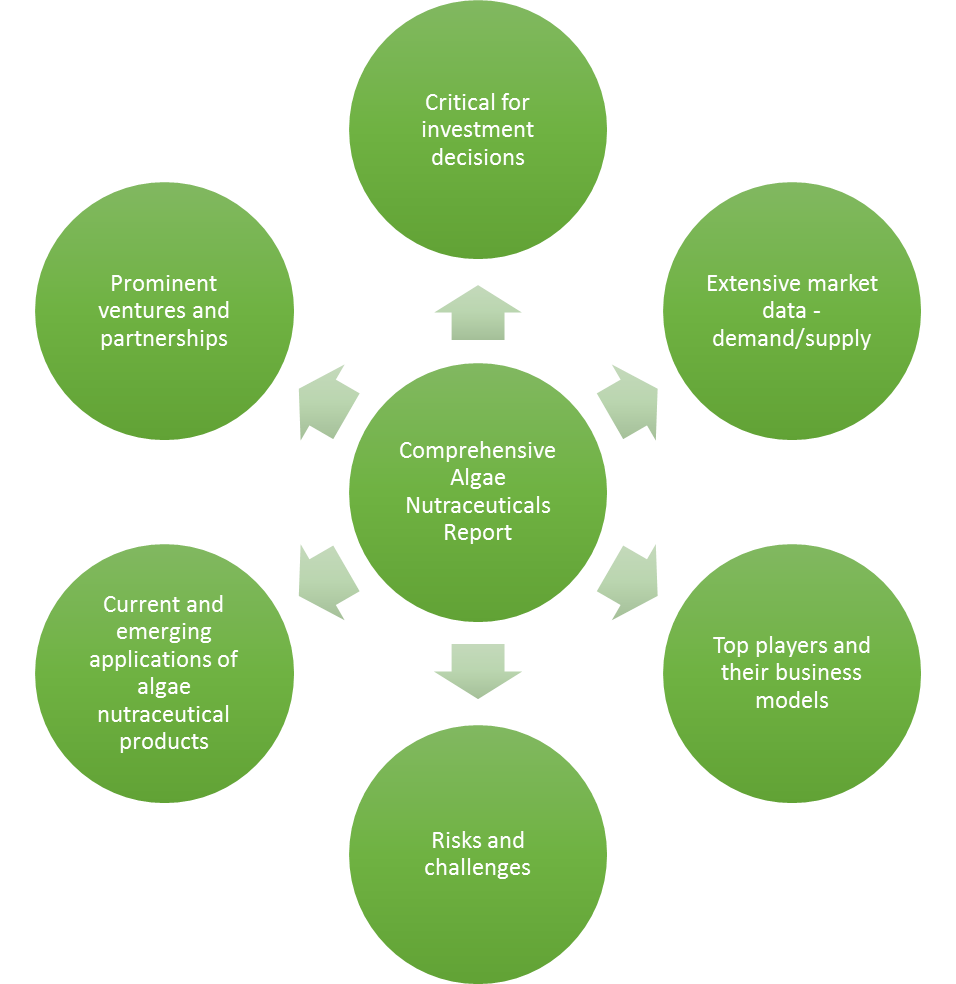 Some questions answered in this report are:
What is the current and future potential for algae based nutraceuticals?
What are the various nutraceutical products obtained from algae and their applications?
What is the brief manufacturing process of key algae based nutraceutical products?
What are the prominent companies worldwide for algae nutraceuticals?
What are the demand and supply scenarios and the market potential for the various algae nutraceuticals - now, and in future?
What is the scenario of the algae nutraceuticals industry in India?
What are the predictions for the future with regard to challenges, possibilities and breakthroughs?
What are the prominent ventures and partnerships happened in recent years?
What are the next steps an entrepreneur should take should she/he be interested in exploring further?
Algae nutraceuticals dealt with in this report:
What is exclusive about this report?
There is no other comprehensive report available for algae nutraceuticals anywhere in the world. This is the first of its kind, and currently, the only one.Oilgae has been interacting with a number of algae industry participants for many years now. This list includes manufacturers and processors, algae cultivators, algae nutraceuticals users, economists, machinery suppliers and trade bodies. Using this collective intelligence and inputs gained over these years, Oilgae has prepared this comprehensive report.
Why should you buy the comprehensive algae nutraceuticals report?
It answers the most important questions that entrepreneurs, investors and businesses have regarding algae nutraceuticals
It informs you in great detail about the various nutraceutical products of algae, their brief production methods and their end-uses
It provides insights from industry professionals worldwide.
It has been developed by Oilgae, the definitive and most referenced resource for the algae industry
The goal of the Comprehensive Algae Nutraceuticals Report is to present an objective status report on the current and future potential of the algae nutraceuticals industry. Written by professionals who have been observing the industry for many years and who interact continuously with all the key industry players, the report will assist you to clearly understand the potential and prospect of the industry.
List of Contents:
Chapter 1 – Algae Nutraceuticals – Manufacturing (Brief manufacturing process for key nutraceutical products)
1.1 Brief Manufacturing Process for Key Algae Nutraceuticals
1.1.1 Algae Nutraceuticals Production
1.1.2 Algae Strains used for each Nutraceutical Product
1.1.3 Machinery Required for Algae Nutraceuticals Production
1.1.4 Composition of Algae Nutraceuticals
1.2 Indicative Costs for Setting up Small and Medium Scale Algae Nutraceuticals Manufacturing Plants
Chapter 2 – Algae Nutraceuticals Market (Insights on current and future demand/supply estimates, consumption and import/export of various algae nutraceutical products)
2.1 The Algae Nutraceuticals Market
2.2 Supply and Demand of Algae Nutraceuticals
2.2.1 Algae Nutraceuticals Supply Data
2.2.2 Demand and Consumption of Algae Nutraceuticals
2.3 Indian Algae Nutraceuticals Industry
2.3.1 Algae Nutraceuticals Exports – Historical Scenario
2.3.2 Algae Nutraceuticals Exports – Current Scenario
2.3.3 Algae Nutraceuticals Imports
2.4 Demand-supply Estimates for Algae Nutraceuticals
2.4.1 Current Demand-supply Estimates for the Various Algae Nutraceutical Products
2.4.2 Future Demand-Supply Estimates for the Various Algae Nutraceutical Products
Chapter 3 – Algae Nutraceuticals – End Uses
3.1 Current End Uses for Algae Nutraceuticals
3.1.1 End Uses - By Algae Nutraceutical Product
3.2 Future Possible End Uses for Algae Nutraceuticals
Chapter 4 – Prominent Partnerships and Ventures
Chapter 5 – Insights on Key Algae Nutraceuticals
5.1 Spirulina
5.2 Chlorella
5.3 Astaxanthin
5.4 Omega-3 Fatty Acids
5.4.1 DHA
5.4.2 EPA
5.5 Beta Carotene
5.6 Lutein
5.7 Zeaxanthin
Chapter 6 – Prominent Algae Nutraceuticals Producers
6.1 Producers based on Geography
6.1.1 North America
6.1.2 South America
6.1.3 Europe
6.1.4 Asia Pacific
The price of the report is US$ 950