Have you seen Oilgae's comprehensive report on the attractive product and business opportunities from algae?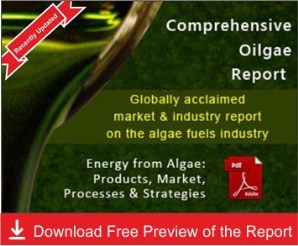 The only report anywhere in the world that scientifically analyses every possible non-fuel product opportunity from algae - in nutrition, animal/fish feed, medicine and pharma, specialty chemicals such as agrochemicals and lubricants, plastics, environmental remediation and more.
Know more about the Comprehensive Algae Business Opportunities report from here .
Nature gave us oil from algae; perhaps we should try Nature's way again
You are at: Oilgae Home > Reference > Directory
Europe Algae to Oil Companies, Organizations, Research
Tony Fagerberg from Sweden. I am currently working as a PhD student in marine ecology at the Univ. of Lund. Recently I started to focus on lipid producing microalgae and soon realized their potential as a biodiesel source.
Tony Fagerberg (Ph.D. student)
Lund University/Campus Helsingborg
Marine biology
Box 882
251 08 Helsingborg
linked in:
Get Yourself Listed @ Oilgae for Free
Are you a research, inventor or equipment producer for fuel from algae, or part of a company that is involved in the algal fuel efforts? Please let me know. I've just about started compiling a directory of everyone and every organization involved in oil from algae. I think this will be very useful as productive connections can be made for research and commercialization between companies and individuals
I request you to send me a mail - narsi@clixoo.com . Please mention as much details as possible about your or your company's involvement with algae fuel, and any web site you might have. Individuals and college students who are either pursuing this as a hobby or for your college/university courses may also kindly send their details.