Fluctuating output brings seaweed prices down
A cycle of boon and bane is bringing down the price of dried seaweed. The low buying price is caused by production fluctuation from late 2015 until early 2017.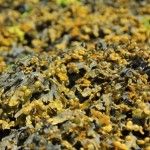 At the same time, unstable supply and price have weakened the quality of cultivated seaweed varieties. Production and prices are also vulnerable to changing weather patterns. Seaweed production went down from 90,734 MT in 2013 to 83,116 MT the following year; it was 101,900 MT in 2015, down to 96,146 MT the next year, up again to 110,000 MT expected this year.