Algae Oil Project Bags First Prize at Intel Science Talent Search
Have you seen Oilgae's comprehensive report on the attractive product and business opportunities from algae?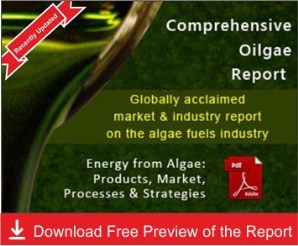 The only report anywhere in the world that scientifically analyses every possible non-fuel product opportunity from algae - in nutrition, animal/fish feed, medicine and pharma, specialty chemicals such as agrochemicals and lubricants, plastics, environmental remediation and more.
Know more about the Comprehensive Algae Business Opportunities report from here .
A 17-year-old high school student from Colorado, received top honors and a $100,000 prize for pioneering a technique to dramatically boost oil yields from algae, a crucial step in the economically viable production of biofuel from the plants, at the Intel Science Fair Contest held last week. Sara Volz, identified as the winner, uses a chemical to artificially select populations of algae cells with high oil content.