National Algae Association's Algae Farming Workshop @ Texas
Have you seen Oilgae's comprehensive report on the attractive product and business opportunities from algae?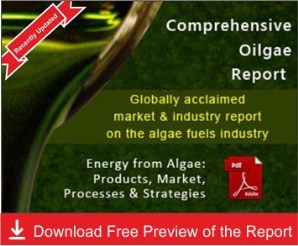 The only report anywhere in the world that scientifically analyses every possible non-fuel product opportunity from algae - in nutrition, animal/fish feed, medicine and pharma, specialty chemicals such as agrochemicals and lubricants, plastics, environmental remediation and more.
Know more about the Comprehensive Algae Business Opportunities report from here .
The National Algae Association (NAA) has announced a Commercial Algae Farming Workshop that is to be held on April 11-12, 2013 in Texas. The workshop presentation topics will include Growing for Nutraceuticals (Omega 3, EPA, DHA), Pharmaceuticals, Cosmetics, Feed, Food, Bioplastics and Organic Fertilizer; CO2 and Nutrients; Harvesting and Extraction Methods; and Financing Opportunities. A tour of the NAA Test Center will be included in the program.
Read: http://bit.ly/Z6ae1J