BIT's 2nd Annual International Congress of Algae-2013
Have you seen Oilgae's comprehensive report on the attractive product and business opportunities from algae?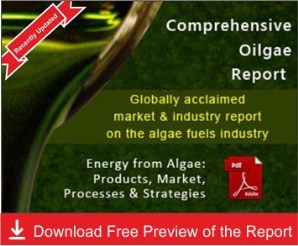 The only report anywhere in the world that scientifically analyses every possible non-fuel product opportunity from algae - in nutrition, animal/fish feed, medicine and pharma, specialty chemicals such as agrochemicals and lubricants, plastics, environmental remediation and more.
Know more about the Comprehensive Algae Business Opportunities report from here .
The BIT's 2nd Annual International Conference of Algae will be held on September 23-25, 2013 in Hangzhou, China. This conference will seek the views and creative ideas on technologies for production and industry application of algae culture. The sessions will present the most recent advances in the fields of algae research on Biofuels, Drug Development, Environment and other application in Industry, Aquaculture and Agriculture.
The deadline for the second round of online abstract submission is March 15th, 2013.
For more info: http://www.bitconferences.com/aica2013/default.asp