MSU researchers put the algae gene into plant leaves
Have you seen Oilgae's comprehensive report on the attractive product and business opportunities from algae?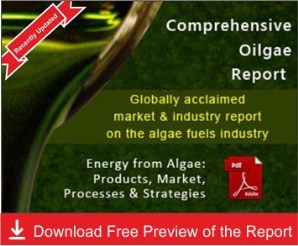 The only report anywhere in the world that scientifically analyses every possible non-fuel product opportunity from algae - in nutrition, animal/fish feed, medicine and pharma, specialty chemicals such as agrochemicals and lubricants, plastics, environmental remediation and more.
Know more about the Comprehensive Algae Business Opportunities report from here .
Amidst ongoing research efforts to increase the oil content of algae, a team at the Michigan State Univeristy is inserting the algae oil gene to engineer a plant that stores lipids or vegetable oil in its leaves. Using the gene, the team has successfully engineered Arabidopsis thaliana, a plant with oily leaves. The algae oil gene successfully boosted oil levels in the plant's leaf tissue. This approach finds great interest in the biofuel industry to boost plants oil production for biofuel production.
More: http://bit.ly/YBvsQC