Newcastle University Researches Algae Biofuel
Have you seen Oilgae's comprehensive report on the attractive product and business opportunities from algae?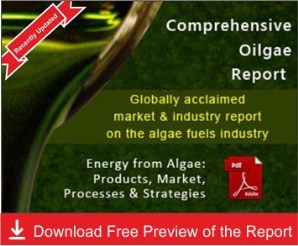 The only report anywhere in the world that scientifically analyses every possible non-fuel product opportunity from algae - in nutrition, animal/fish feed, medicine and pharma, specialty chemicals such as agrochemicals and lubricants, plastics, environmental remediation and more.
Know more about the Comprehensive Algae Business Opportunities report from here .
Along with the Carbon Trust, nine research institutions in the UK will look at ways of cultivating billions of litres of biofuel generated from algae.
Newcastle University is hosting one of the main research projects, looking at the generation and extraction of the fuel.
Dr Adam Harvey, from the university's School of Chemical Engineering and Advanced Materials, explained: "The trouble with algae is that you have a small amount of it in a vast excess of water so at the moment we use an awful lot of energy boiling off the water to get to the plant oil."
He added that the amount of energy used for extraction "can outweigh what you get back upon combustion", meaning that this is not currently a viable source of fuel.