Enclosed Photobioreactors with Adaptive Internal Illumination for the Cultivation Of Algae
Have you seen Oilgae's comprehensive report on the attractive product and business opportunities from algae?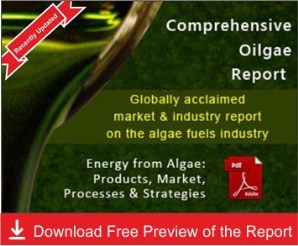 The only report anywhere in the world that scientifically analyses every possible non-fuel product opportunity from algae - in nutrition, animal/fish feed, medicine and pharma, specialty chemicals such as agrochemicals and lubricants, plastics, environmental remediation and more.
Know more about the Comprehensive Algae Business Opportunities report from here .
A recent patent filed by researchers from Wayne State University,Detroit, MI, US is on internal lighting for algae cultivation. The patent is on an enclosed, internally-lighted bioreactor apparatus comprising a main having an inlet and an outlet. This novel photobioreactor provides a method for enhancing the growth of a photosynthetic microorganism comprising:
A carbon dioxide inlet to an enclosed culture comprising water and photosynthetic microorganisms
Equipments to move a light-transmitting or light-emitting material through the culture to distribute light to the microorganisms
Sensors for maintaining optimal pH, viscosity, turbidity, temperature, and dissolved oxygen.
For more information on this patent see: http://www.freepatentsonline.com/y2010/0028977.html