New Mexico Ponds to Grow Algae for Energy
Have you seen Oilgae's comprehensive report on the attractive product and business opportunities from algae?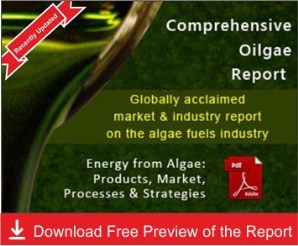 The only report anywhere in the world that scientifically analyses every possible non-fuel product opportunity from algae - in nutrition, animal/fish feed, medicine and pharma, specialty chemicals such as agrochemicals and lubricants, plastics, environmental remediation and more.
Know more about the Comprehensive Algae Business Opportunities report from here .
Algae will be cultivated by Sapphire Energy in man-made ponds about 8 miles west of Columbus on the Mexican border, to later be converted to a green goop called algae-based biofuel, oilgae, or algal fuel.
"This will be the first Sapphire facility in the country," says Tim Zenk, spokesperson for Sapphire Energy in San Diego.
"We're looking at different geographies," says Zenk. "Now our focus is on New Mexico."
Luna County is considered ideal for algae-based biofuel because of the flat desert conditions, the high level of sunlight, and the large amount of underground salt water.