New Algae Biofuel Production Method Could Someday Compete with Petroleum
Researchers at NREL have taken a page from the petroleum refinery (and the meat packing industry) to propose a multi-product algal biorefinery concept as a means to let no component of the microalgal biomass go to waste.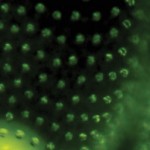 Using their expertise at compositional analysis and thermochemical and biochemical conversion technologies, they have identified a number of new opportunities for production of fuels and higher value products from the lipids and the residual biomass.  This led them to develop what we call the Combined Algal Processing (CAP) scheme.