Seaweed Expo Opens in S. Korea
An international seaweed expo opened on the South Korean island of Wando on April 14. The expo is focused on shedding "new light on the maritime species" potential value, not only as a healthy food but as a raw material for diverse future industries, including medicine and energy.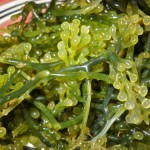 This is the second time the expo has run, and it will go on for 24 days. The event is expected to bring together about 1,000 buyers from 150 countries, including the United States, China, Japan, Canada and Australia.
View the complete list of products from Algae
Click here