Global Algae Biodiesel World 2013 -2 Day Algae Fuel Workshop,Oct 25-26,Jaipur,India
Have you seen Oilgae's comprehensive report on the attractive product and business opportunities from algae?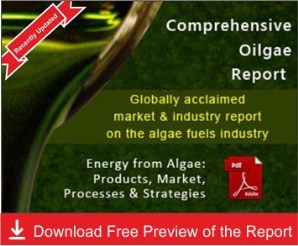 The only report anywhere in the world that scientifically analyses every possible non-fuel product opportunity from algae - in nutrition, animal/fish feed, medicine and pharma, specialty chemicals such as agrochemicals and lubricants, plastics, environmental remediation and more.
Know more about the Comprehensive Algae Business Opportunities report from here .
Global Algae Biodiesel World 2013
Organizer: Center for Jatropha Promotion, India.
Date: Oct. 25-26, 2013
Location: Jaipur , India
Topics include:
Algae Biodiesel: Commercialization, Research & Business Platform Potential,
Promise and Problems of microalgae for liquid transportation fuels
MAIN THEMES
1. Commercializing Algae Biodiesel: Prospects and Priorities 2. Algae Growing, Harvesting and Extraction Technologies 3. Scaling Up Algae Production to Commercially Viable Levels 4. Optimizing Efficiency in Algae Harvesting and Dewatering 5. Identifying and Creating the Ideal Strain 6. Algae Carbon Values: Perspectives from The Carbon Market 7. Developing a low cost novel & High Productivity Enclosed Hybrid System for algae farming for oil 8. Demonstration of Algae Photo bioreactor and Biodiesel Making
More info: http://www.jatrophaworld.org/global_algae_biodiesel_world_2012_93.html