OriginOil and Algasol Collaborate for Developing Integrated Algae Growth and Harvesting System
Have you seen Oilgae's comprehensive report on the attractive product and business opportunities from algae?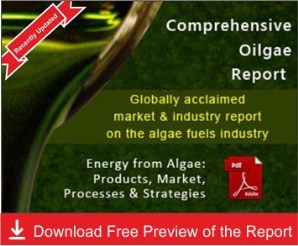 The only report anywhere in the world that scientifically analyses every possible non-fuel product opportunity from algae - in nutrition, animal/fish feed, medicine and pharma, specialty chemicals such as agrochemicals and lubricants, plastics, environmental remediation and more.
Know more about the Comprehensive Algae Business Opportunities report from here .
OriginOil and Algasol Renewables, two major companies in the algae energy industry have entered into an agreement for developing an integrated algae growth and harvesting system.
Algasol, which is already working with NASA and Lawrence Berkeley National Laboratories plans to bundle its offerings with OriginOil's Algae Appliance, developed by the company wit the aim of reducing the cost and energy requirement associated with the process. The companies hope that this bundling will pave way for reducing cost and improve the performance of algae production systems for biofuel and other high value products.