Algae Ethanol Producer Aquatic BioEnergy Raises $800,000
Have you seen Oilgae's comprehensive report on the attractive product and business opportunities from algae?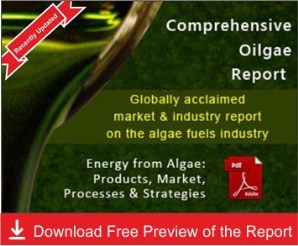 The only report anywhere in the world that scientifically analyses every possible non-fuel product opportunity from algae - in nutrition, animal/fish feed, medicine and pharma, specialty chemicals such as agrochemicals and lubricants, plastics, environmental remediation and more.
Know more about the Comprehensive Algae Business Opportunities report from here .
South Dakota-based algae fuel start-up Aquatic BioEnergy, which is using sea weeds for ethanol production, has raised $800,000 in private equity. The company uses sewer water or CO2 stripped from a power stack to feed the algae.
Two years of lab analysis have led to the company's current pilot facility in Sioux Falls,which employs 45,000 gallons of tank space for commercial-scale testing.