Cosmetics from Algae
Have you seen Oilgae's comprehensive report on the attractive product and business opportunities from algae?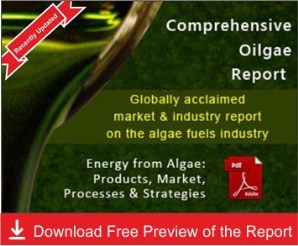 The only report anywhere in the world that scientifically analyses every possible non-fuel product opportunity from algae - in nutrition, animal/fish feed, medicine and pharma, specialty chemicals such as agrochemicals and lubricants, plastics, environmental remediation and more.
Know more about the Comprehensive Algae Business Opportunities report from here .
Non-fuel applications of algae are gaining considerable attraction now-a-days, as most of them are high market value products. One such area is cosmetics. Lipid containing algae are an excellent choice for the production of cosmetics, since they can be used to produce oils and biomass economically for use in the cosmetic industry. In a recent patent granted to Solazyme Inc., production methods of microalgae-based cosmetics have been discussed.
Chlorella is the preferred genus for the preparation of the cosmetic products. In the patent, the methods of culturing Chlorella and other microalgae for the production of cosmetics are explained in detail.
In addition to Chlorella, other important genera of algae used in cosmetics are given in the table below.
Parachlorella
Neochloris
Bracteacoccus
Scenedesmus
Anabaena
Ankistrodesmus
Chlorococcum
Schizochytrium
Spirulina
Crypthecodinium 
Cryptomonas
Isochrysis 
Rhodococcus 
Nannochloropsis 
Algae are used in cosmetics in the forms such as algal flakes, algal oil, algal powder and algal flour.
Cosmetics that could be produced from algae include algal soaps, algal clay mask, algae beauty serum, algal beauty oil, algal oil/salt scrub, algal whole cell shampoo and conditioner, algae anti-ageing creams and so on.
Excited? Wanna read the patent? Click here