New Low Cost, Space Saving Bioreactor , that can Double as a PBR, with Efficient and User-Friendly Interfaces for Control Over the Photosynthetic Parameters like Lighting, Motion, pH Value, and Temperature, Launched
Now, it's possible to get an all-in-one controlled bioreactor in half the price of a traditional bioreactor! Got excited?
Cole-Parmer, a supplier of laboratory and industrial fluid handling products, instrumentation, and equipments has introduced a new bioreactor named IKA BR 10 Bioreactor. The bioreactor is best suited for the cultivation of photosynthetic organisms like algae, moss plants and many bacterial species also. The unique feature about the new bioreactor is that it costs only half the price and occupies much less space when compared to the traditional bioreactor.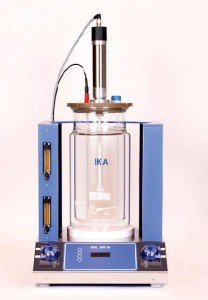 IKA BR 10 Bioreactor
It has user-friendly interfaces for control over all the photosynthetic variables of lighting, motion, pH value, and temperature. The features of the new bioreactor include:
Smooth and impressive design and user-friendly automated system.
Enables optimized cell growth.
Fully jacketed 10L vessel with chemically inert and autoclavable surfaces.
Constantly monitors data and collects data for future analysis.
All the functions are self-contained in a compact manner.
With all these features the bioreactor was designed in collaboration with renowned marine scientists for the efficient growth of phototrophic organisms. It is specifically designed for temperature-sensitive samples. The vessel is provided with a removable lamp shield that contains six compact, double fluorescent lamps for an effective photosynthesis to take place. The specialty about this bioreactor is that if the lighting system is removed the unit can be used a lab reactor.
There is a digitally controlled PTFE overhead stirrer, which includes two 4-blade adjustable PTFE propellers for agitation to efficiently transfer oxygen but it also preserves the fragile cells during mixing. There is a variable speed peristaltic pump which provides a flow rate of 120-450mL/min. The reactor holds good for a variety of applications including fermentation, medical research, production of biofuel, pharmaceuticals and food products and more.
http://www.digitaljournal.com/pr/338664