Algae Ventures Secures Development Loan for its Dewatering System
Have you seen Oilgae's comprehensive report on the attractive product and business opportunities from algae?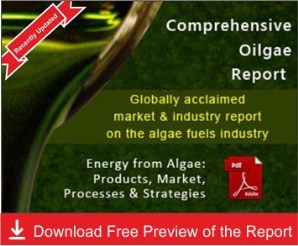 The only report anywhere in the world that scientifically analyses every possible non-fuel product opportunity from algae - in nutrition, animal/fish feed, medicine and pharma, specialty chemicals such as agrochemicals and lubricants, plastics, environmental remediation and more.
Know more about the Comprehensive Algae Business Opportunities report from here .
Algae venture had sometime in August  last year come up with what was called the Harvesting , Dewatering and  Drying (HDD)  system which they claim radically improves one of the bottlenecks hindering algae fuels – Dewatering of algae.  See my earlier post – (http://www.oilgae.com/blog/2010/08/harvesting-dewatering-and-drying-of-algae.html)
Now,Algaeventure Systems  have reported that they  has been awarded a $1.5 million loan from the Ohio development department's R&D investment loan fund to support the purchase of machinery and equipment to manufacture their dewatering system . The $2.5 million project is expected to create 200 new jobs and retain 20 others.
See more: http://www.biodieselmagazine.com/articles/7563/algaeventure-wins-development-loan-for-algae-dewatering-systems