Algae Biofuel Production Scales up in Iowa
Have you seen Oilgae's comprehensive report on the attractive product and business opportunities from algae?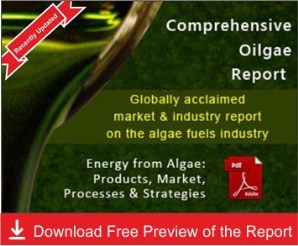 The only report anywhere in the world that scientifically analyses every possible non-fuel product opportunity from algae - in nutrition, animal/fish feed, medicine and pharma, specialty chemicals such as agrochemicals and lubricants, plastics, environmental remediation and more.
Know more about the Comprehensive Algae Business Opportunities report from here .
Green Plains Renewable Energy and CLARCOR have announced that their joint venture, BioProcess Algae, has now completed construction of Phase II of its commercial scale Grower Harvester bioreactors in Shenandoah, Iowa. The focus is on efficiently and effectively growing and harvesting algae with little to no manual intervention, all while utilizing the carbon dioxide from the ethanol production process. The algae produced from these reactors have potential uses in nutraceuticals, pharmaceuticals, biofuels and animal feed.
http://bit.ly/fyTfG1