Algae-biofuel technology patented by Bebout and Associates
Have you seen Oilgae's comprehensive report on the attractive product and business opportunities from algae?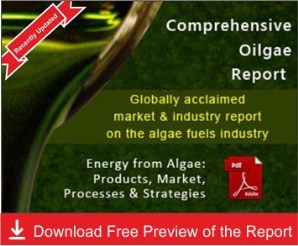 The only report anywhere in the world that scientifically analyses every possible non-fuel product opportunity from algae - in nutrition, animal/fish feed, medicine and pharma, specialty chemicals such as agrochemicals and lubricants, plastics, environmental remediation and more.
Know more about the Comprehensive Algae Business Opportunities report from here .
Bebout and Associates of Savannah, Georgia, after 4 years of research, has patented a process for growing algae for biofuels that promises faster growth rates, higher oil production and greater freedom to locate commercial algae farms in rural areas. The process uses marlstone as a media buffer as well as a source of carbon and trace elements for enhanced algae growth.
Dr. John W. Bebout, Principal Consultant for Bebout and Associates, explained that providing carbon dioxide (CO2) to algae is well-known to as much as double both their production of lipids (similar to vegetable oil) and their growth rate. Up until now, the amount of CO2 required to grow the thousands of acres of algae necessary for commercial production required co-location with large industrial sources of CO2 such as power plants or large factories. This severely restricted potential locations for large algae farms.
"Discovering the value of marlstone for enhanced algae growth was serendipitous," said Bebout. "We were analyzing marls and marlstones for a non-algae-related project. We knew there would be a high percentage of calcium carbonate, but we were pleasantly surprised to find large amounts of other elements which are known to benefit algae growth, including iron, silica and magnesium."
"The marlstone responds to pH changes in the algae ponds," explained Bebout. "As the algae grow they change the pH; as the pH changes, CO2 and trace elements are released. The additional CO2 and trace elements stimulate more algae growth which, in turn, releases more CO2. And so on. It's a very dynamic system."
Bebout and Associates is a long-term partner in algae research with Enegis, LLC of Virginia and the University of Nevada at Reno. "Our focus has always been on developing an energy crop for rural farmers in the southwest," said Bebout. "It's the rural areas that have the natural resources and land necessary to successfully grow algae for biofuel. But without a readily available source of CO2, the idea seemed hopelessly flawed."
Bebout said that several major universities in the southwest have already expressed an interest in testing the marlstone as part of their algae research. "Bebout and Associates will continue to partner with interested parties around the country," he said. "We believe we are very close to developing a new energy crop for the rural farmers of the southwest that will benefit the entire country."
More from here – http://bit.ly/e874eq