National Alliance Focuses on Turning Algal Biofuels Into Viable Industry
Have you seen Oilgae's comprehensive report on the attractive product and business opportunities from algae?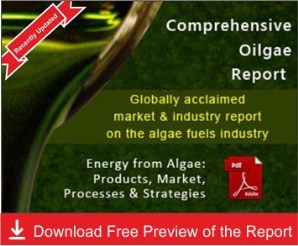 The only report anywhere in the world that scientifically analyses every possible non-fuel product opportunity from algae - in nutrition, animal/fish feed, medicine and pharma, specialty chemicals such as agrochemicals and lubricants, plastics, environmental remediation and more.
Know more about the Comprehensive Algae Business Opportunities report from here .
A two-day Algae World Summit that began on May 17 at the Del Mar Hilton is more of the same, with sessions on "real world" experiences in growing algae, "meeting the challenges" of growing algae in industrial quantities, and practical considerations in project development.
Jose Olivares outlined some of these technical issues for me when he came through San Diego a few weeks ago. Olivares, who was a deputy biosciences leader at the Los Alamos National Laboratory, is now executive director of, the National Alliance for Advanced Biofuels and Bioproducts (NAABB), a consortium of industry, academic, and government researchers. Locally, the alliance includes UC San Diego, as wells as some scientists from HR BioPetroleum and Kai BioEnergy.