Hopewell Algae Project Prototype for the Country
Have you seen Oilgae's comprehensive report on the attractive product and business opportunities from algae?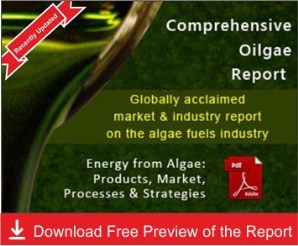 The only report anywhere in the world that scientifically analyses every possible non-fuel product opportunity from algae - in nutrition, animal/fish feed, medicine and pharma, specialty chemicals such as agrochemicals and lubricants, plastics, environmental remediation and more.
Know more about the Comprehensive Algae Business Opportunities report from here .
You are at: Oilgae Blog.
Hopewell launched the algae demonstration project in November. Until at least September, algae will be used to clean wastewater from nitrogen instead of conventionally engineered solutions. This new technology is a more cost-saving, green approach to nutrient removal, which results in cleaner waters in Virginia's rivers and in the Chesapeake Bay.
Excess nitrogen in the plant's discharge is one of the main challenges of wastewater treatment, and the regional plant is currently not designed to remove nitrogen. Plant director Mark Haley estimates that it would cost $90 million to upgrade the plant with conventional solutions. "This would result in higher sewer rates for the citizens and a higher cost for the local industries," Haley said.
But the algae project could even generate a profit – because algae creates a residue which can be used to produce biofuel and green coal.
By the way, have you subscribed to the Oilgae Blog?; How about joining the Oilgae mailing list?; and our forum to discuss on with others?