Algae Biofuel Project in Carlsbad
Have you seen Oilgae's comprehensive report on the attractive product and business opportunities from algae?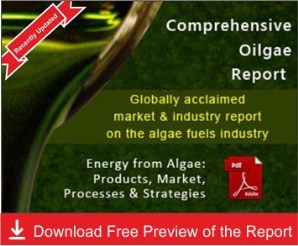 The only report anywhere in the world that scientifically analyses every possible non-fuel product opportunity from algae - in nutrition, animal/fish feed, medicine and pharma, specialty chemicals such as agrochemicals and lubricants, plastics, environmental remediation and more.
Know more about the Comprehensive Algae Business Opportunities report from here .
You are at: Oilgae Blog.
The New Mexico Environment Department has reached a settlement with Marathon Oil Corp. under which the Houston company will pay $5.1 million in environmental projects and penalties to resolve air quality violations alleged by the state at Marathon's Indian Basin Gas Plant near Carlsbad.
The environmental projects include $3.75 million to build and maintain new pollution controls to reduce sulfur dioxide emissions and $750,000 for an algae-to-biofuels project in Carlsbad.
By the way, have you subscribed to the Oilgae Blog?; How about joining the Oilgae mailing list?; and our forum to discuss on with others?