Targeted Growth Engineers Algae for Oil Production
Have you seen Oilgae's comprehensive report on the attractive product and business opportunities from algae?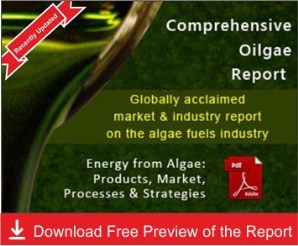 The only report anywhere in the world that scientifically analyses every possible non-fuel product opportunity from algae - in nutrition, animal/fish feed, medicine and pharma, specialty chemicals such as agrochemicals and lubricants, plastics, environmental remediation and more.
Know more about the Comprehensive Algae Business Opportunities report from here .
You are at: Oilgae Blog.
Targeted Growth, one of the leaders in genetic research, is trying to boost the oil content. It has already created versions of cyanobacteria with 20 percent to 40 percent of their mass in lipid. Next year, it hopes to show that it can produce this type of algae in large enough quantities to support a pilot manufacturing facility. Ideally, Targeted will be able to show that its algae can produce 2,000 to 3,000 gallons of oil a year per acre and show a pathway to get to 4,000 to 6,000 gallons an acre a year.
Cyanobacteria, or blue green algae, are not incredibly oily. Only about 5 percent to 10 percent of their body mass in a natural state consists of lipids, which can be turned into biofuel, according to Margaret McCormick, general manager of the biobased materials unit at Targeted Growth. By contrast, some species of Botryococcus can achieve a lipid content of up to 70 percent to 80 percent after genetic engineering.
Source: Greentechmedia.com
By the way, have you subscribed to the Oilgae Blog?; How about joining the Oilgae mailing list?; and our forum to discuss on with others?