Algae as an Organic Pest Control Agent
Have you seen Oilgae's comprehensive report on the attractive product and business opportunities from algae?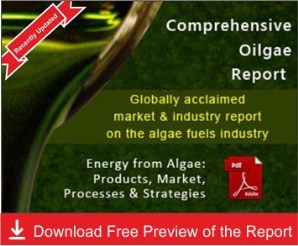 The only report anywhere in the world that scientifically analyses every possible non-fuel product opportunity from algae - in nutrition, animal/fish feed, medicine and pharma, specialty chemicals such as agrochemicals and lubricants, plastics, environmental remediation and more.
Know more about the Comprehensive Algae Business Opportunities report from here .
You are at: Oilgae Blog.
Diatomaceous Earth (DE) is an organic and natural pest control agent. It consists of fossilized diatoms, which are a type of algae. DE looks like a harmless powder, but its sharp edges damage the exoskeleton of the insect and dehydrate it. Although this is deadly to many insects, it is safe around pets and people. As gardeners are looking for organic and natural alternatives to their gardening chemicals, DE is a great option for controlling many garden pests.
By the way, have you subscribed to the Oilgae Blog?; How about joining the Oilgae mailing list?; and our forum to discuss on with others?
View the complete list of products from Algae
Click here