Solazyme Taps Public Policy Veteran David Isaacs for SVP of Government Relations Role
Have you seen Oilgae's comprehensive report on the attractive product and business opportunities from algae?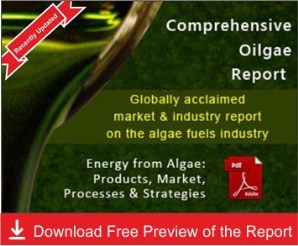 The only report anywhere in the world that scientifically analyses every possible non-fuel product opportunity from algae - in nutrition, animal/fish feed, medicine and pharma, specialty chemicals such as agrochemicals and lubricants, plastics, environmental remediation and more.
Know more about the Comprehensive Algae Business Opportunities report from here .
You are at: Oilgae Blog.
Solazyme, Inc., the renewable oil production company and leader in algal synthetic biology that creates sustainable fuels, industrial chemicals and health and wellness ingredients from microalgae, today announced that it has appointed David Isaacs senior vice president of government relations. In this role, Isaacs is responsible for formulating and executing Solazyme's public affairs strategy at the federal and state level.
By the way, have you subscribed to the Oilgae Blog?; How about joining the Oilgae mailing list?; and our forum to discuss on with others?