Green Algae Strategy by Mark Edwards – Top Science Boook of the Year
Have you seen Oilgae's comprehensive report on the attractive product and business opportunities from algae?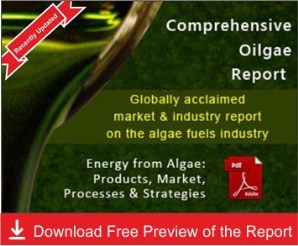 The only report anywhere in the world that scientifically analyses every possible non-fuel product opportunity from algae - in nutrition, animal/fish feed, medicine and pharma, specialty chemicals such as agrochemicals and lubricants, plastics, environmental remediation and more.
Know more about the Comprehensive Algae Business Opportunities report from here .
You are at: Oilgae Blog.

Professor Mark Edwards of the Morrison School of Management and Agribusiness at Arizona State University won "top science book of the year" award for his work about how algae can revolutionize food and fuel. The 2009 Independent Publisher Book Awards reviewed over 4,600 books and selected Green Algae Strategy for the Gold Medal as the "Top Science Boook of the Year.
"Algae is very nutritious, delicious, sustainable and affordable," says Professor Edwards, whose book Green Algae Strategy: End Oil Imports and Engineer Sustainable Food and Fuels recently received an Independent Publisher (IPPY) Book Awards Gold Medal.
More information about the book and algae research can be found at GreenIndependence.org.
By the way, have you subscribed to the Oilgae Blog?; How about joining the Oilgae mailing list?; and our forum to discuss on with others?