Lipid Productivity Of Algae Grown On Dairy Wastewater As A Possible Feedstock For Biodiesel
Have you seen Oilgae's comprehensive report on the attractive product and business opportunities from algae?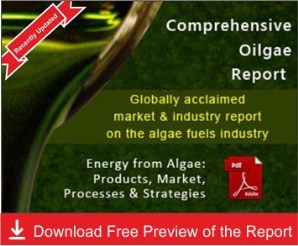 The only report anywhere in the world that scientifically analyses every possible non-fuel product opportunity from algae - in nutrition, animal/fish feed, medicine and pharma, specialty chemicals such as agrochemicals and lubricants, plastics, environmental remediation and more.
Know more about the Comprehensive Algae Business Opportunities report from here .
You are at: Oilgae Blog.
An excellent document on using dairy waste water as a effort to produce energy from waste- "LIPID PRODUCTIVITY OF ALGAE GROWN ON DAIRY WASTEWATER AS A POSSIBLE FEEDSTOCK FOR BIODIESEL" byCalifornia Polytechnic University.







By the way, have you subscribed to the Oilgae Blog?; How about joining the Oilgae mailing list?; and our forum to discuss on with others?