Potential of Algal fuel Technology in IT sector
Have you seen Oilgae's comprehensive report on the attractive product and business opportunities from algae?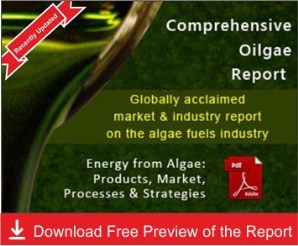 The only report anywhere in the world that scientifically analyses every possible non-fuel product opportunity from algae - in nutrition, animal/fish feed, medicine and pharma, specialty chemicals such as agrochemicals and lubricants, plastics, environmental remediation and more.
Know more about the Comprehensive Algae Business Opportunities report from here .
You are at: Oilgae Blog.
Alternative energies such as biofuels and solar and wind power aren't very alternative anymore. Now, there are "alternative-alternative" or "operational" technologies to take their places on the fringe: geothermal, tidal and passive nuclear energies, for example.Emerging energy technology is now known as "operational technology," said Sumic, who works with Gartner's energy and technology advisory services, a group that explores the potential effects of emerging energy technologies on the IT sector.
Algal fuel or algae-based biofuel holds "great promise," due to its energy potential," King said, adding that algae contains up to 30 times more fuel than equivalent amounts of other biofuel sources and can be grown almost anywhere.
Still, he acknowledged, "for now, it's far too expensive to produce commercially."
Where all the research goes depends largely on funding. The U.S. government spends less in inflation-adjusted dollars on alternative-energy research than it did in the 1970s, particularly in the area of geothermal technology.
By the way, have you subscribed to the Oilgae Blog?; How about joining the Oilgae mailing list?; and our forum to discuss on with others?