Algae Problems – Light Distribution, Agitation, Tough Cell Walls
Have you seen Oilgae's comprehensive report on the attractive product and business opportunities from algae?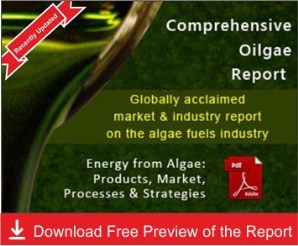 The only report anywhere in the world that scientifically analyses every possible non-fuel product opportunity from algae - in nutrition, animal/fish feed, medicine and pharma, specialty chemicals such as agrochemicals and lubricants, plastics, environmental remediation and more.
Know more about the Comprehensive Algae Business Opportunities report from here .
You are at: Oilgae Blog.
Here's a detailed and useful post on the problems and stand in the way of algae becoming the dominant biofuel feedstock.
While I'd say that the author has looked only at one aspect of algae energy (the biodiesel part), and not much from the algae ethanol or algae to hydrocarbons using the thermochemical routes, the post is still very useful because for the scope that the post has limited itself, it does a commendable job of pointing out the key issues – need for an even and effective light distribution, need to overcome the problems of agitation of medium that curtail algae growth and the need to make the cracking of the tough algae walls easier in order to extract oil.
By the way, have you subscribed to the Oilgae Blog?; How about joining the Oilgae mailing list?; and our forum to discuss on with others?