Continental Airlines announced to conduct biofuel flight in partnership with Boeing, GE Aviation and CFM International
Have you seen Oilgae's comprehensive report on the attractive product and business opportunities from algae?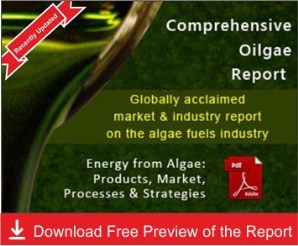 The only report anywhere in the world that scientifically analyses every possible non-fuel product opportunity from algae - in nutrition, animal/fish feed, medicine and pharma, specialty chemicals such as agrochemicals and lubricants, plastics, environmental remediation and more.
Know more about the Comprehensive Algae Business Opportunities report from here .
You are at: Oilgae Blog.
Continental Airlines announced plans for the first biofuel-powered demonstration flight of a U.S. commercial airliner, to be conducted in Houston on Jan. 7, 2009.
The demonstration flight, which will be operated with no passengers, will be powered by a special fuel blend including components derived from algae and jatropha plants — sustainable, second-generation fuel sources that don't impact food crops or water resources, and don't contribute to deforestation.
Continental has partnered with Boeing ; CFM International, a 50/50 joint company of General Electric Company and Snecma ; refining technology developer UOP , a Honeywell company; and oil providers Sapphire Energy and Terrasol on this project.
By the way, have you subscribed to the Oilgae Blog?; How about joining the Oilgae mailing list?; and our forum to discuss on with others?