Biofuel from seaweed investigated by Scottish Association for Marine Sciences (SAMS).
Have you seen Oilgae's comprehensive report on the attractive product and business opportunities from algae?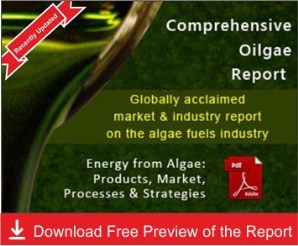 The only report anywhere in the world that scientifically analyses every possible non-fuel product opportunity from algae - in nutrition, animal/fish feed, medicine and pharma, specialty chemicals such as agrochemicals and lubricants, plastics, environmental remediation and more.
Know more about the Comprehensive Algae Business Opportunities report from here .
You are at: Oilgae Blog.
The Scottish Association for Marine Sciences (SAMS) in Oban will lead the research, in partnership with Queens University Belfast and the University of Ulster in Northern Ireland, and the Institutes of Technology in Dundalk and Sligo in Ireland.
They aim to demonstrate if locally produced biofuels can be made from seaweed and algae, as an alternative to land-based plants. Work will get underway in early 2009.Previous research by SAMS indicated that extracting energy from seaweed is a particularly efficient and reliable method of producing green energy.
By the way, have you subscribed to the Oilgae Blog?; How about joining the Oilgae mailing list?; and our forum to discuss on with others?