Sheel White Paper – Harvesting Energy from Algae
Have you seen Oilgae's comprehensive report on the attractive product and business opportunities from algae?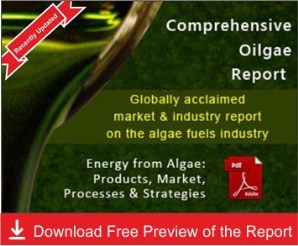 The only report anywhere in the world that scientifically analyses every possible non-fuel product opportunity from algae - in nutrition, animal/fish feed, medicine and pharma, specialty chemicals such as agrochemicals and lubricants, plastics, environmental remediation and more.
Know more about the Comprehensive Algae Business Opportunities report from here .
You are at: Oilgae Blog.
Algae hold great promise as a possible source of biodiesel because they grow rapidly, are rich in vegetable oil and can be cultivated in ponds of seawater, reducing the need for fertile land and fresh water. Many companies are seeking ways to produce algal oil on a commercial scale, but they face significant hurdles, says this Feb 2008 white paper from Royal Dutch / Shell.
Useful details in this brief paper.
By the way, have you subscribed to the Oilgae Blog?; How about joining the Oilgae mailing list?; and our forum to discuss on with others?