Hydrogen from Algae – Hydrogenase, Sulfur Depletion…
Have you seen Oilgae's comprehensive report on the attractive product and business opportunities from algae?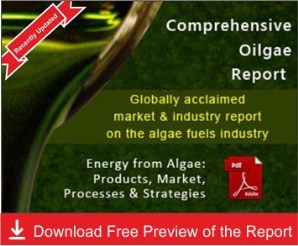 The only report anywhere in the world that scientifically analyses every possible non-fuel product opportunity from algae - in nutrition, animal/fish feed, medicine and pharma, specialty chemicals such as agrochemicals and lubricants, plastics, environmental remediation and more.
Know more about the Comprehensive Algae Business Opportunities report from here .
You are at: Oilgae Blog.
In 1939 Hans Gaffron, a University of Chicago research scientist, observed that the green algae he was studying, Chlamydomonas Reinhardtii, would occasionally switch from the production of oxygen to the production of Hydrogen. Gaffron was unable to discover why the algae would change to Hydrogen production and the answer would remain elusive for many years. In the late 1990s,
University of California at Berkeley Professor Anastasios Melis discovered that if the algae culture medium is deprived of sulfur it will switch from the production of oxygen (normal photosynthesis), to the production of Hydrogen.
Further research revealed that the enzyme responsible for this reaction is Hydrogenase, but that the Hydrogenase lost this function in the presence of oxygen. Melis determined that depleting the amount of sulfur available to the algae interrupted its internal oxygen flow, allowing the Hydrogenase an environment in which it can react, causing the algae to produce Hydrogen. Chlamydomonas moeweesi is also a good strain for the production of Hydrogen.
More from here
By the way, have you subscribed to the Oilgae Blog?; How about joining the Oilgae mailing list?; and our forum to discuss on with others?
View the complete list of products from Algae
Click here