Bacteria, not Algae, for Biofuel for BP, Arizona State
Have you seen Oilgae's comprehensive report on the attractive product and business opportunities from algae?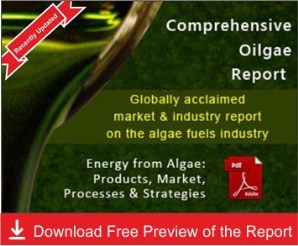 The only report anywhere in the world that scientifically analyses every possible non-fuel product opportunity from algae - in nutrition, animal/fish feed, medicine and pharma, specialty chemicals such as agrochemicals and lubricants, plastics, environmental remediation and more.
Know more about the Comprehensive Algae Business Opportunities report from here .
You are at: Oilgae Blog. See the complete list of Oilgae Blog articles.
Bacteria, not Algae, for Biofuel for BP, Arizona State
Algae's not the only organism that can be used as a feedstock for biofuel.
BP will collaborate with Arizona State University to try to figure out a way of using cyanobacteria, a photosynthetic form of bacteria, as a feedstock for diesel or synthetic petroleum. Ideally, the bacteria could be cultivated in large, contained plots of land baked by the sun–Arizona has a lot of that. The bacteria also consume carbon dioxide to grow. Thus, carbon dioxide could be pumped in from a power plant into the contained bacteria farm. The company could thus make money from selling carbon credits and selling fuel feedstock.
Full story from here
Nature gave us oil from algae; perhaps we should try Nature's way again