Gold Coast Energy Firm Goes Green, to Get Oil from Algae
Have you seen Oilgae's comprehensive report on the attractive product and business opportunities from algae?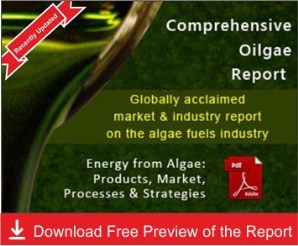 The only report anywhere in the world that scientifically analyses every possible non-fuel product opportunity from algae - in nutrition, animal/fish feed, medicine and pharma, specialty chemicals such as agrochemicals and lubricants, plastics, environmental remediation and more.
Know more about the Comprehensive Algae Business Opportunities report from here .
You are at: Oilgae Blog. See the complete list of Oilgae Blog articles.
Gold Coast Energy Firm Goes Green, to Get Oil from Algae
15 May 07
ICON Energy, the Robina-based oil explorer, has gone green in its latest venture with a plan to snare a stake in a US bio-diesel business.
The company, which for years has been searching for oil in Louisiana as well as the Surat Basin in Australia, has signed a letter of intent with PetroSun Inc of Arizona for a 20 per cent share of a licence to produce bio-diesel from algae.
The plan will see Icon establish a new bio-fuel company in Australia. PetroSun will also take a 55 per cent interest in Icon Energy subsidiary Icon Drilling.
Read the full story from this news report from Gold Coast Bulletin
Nature gave us oil from algae; perhaps we should try Nature's way again
Oilgae; Oilgae Blog; List of Oilgae Blog articles.
algOS – Biodiesel from Algae Open Source
Oilgae has a focus on biodiesel production from algae while also discussing alternative energy in general.