Algae-based Oxygen Machine
Have you seen Oilgae's comprehensive report on the attractive product and business opportunities from algae?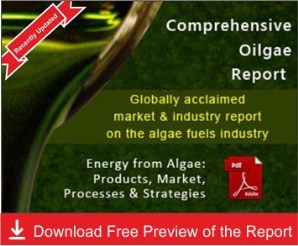 The only report anywhere in the world that scientifically analyses every possible non-fuel product opportunity from algae - in nutrition, animal/fish feed, medicine and pharma, specialty chemicals such as agrochemicals and lubricants, plastics, environmental remediation and more.
Know more about the Comprehensive Algae Business Opportunities report from here .
You are at: Oilgae Blog. See the complete list of Oilgae Blog articles.
Do you know that oil derived from algae is an exciting renewable fuel possibility? – see Oilgae for more.
Algae-based Oxygen Machine
Came across an interesting blog post on the Chlorophyll Collective (CC)…Just in case you are wondering what on earth CC could be, the post provides the answer:
"How do you turn 6,008.6 million metric tons of CO2 into something essential for human existence?
From the experts at the Chlorophyll Collective, the answer is simple: Take a bunch of algae, submerge it in water, blast it with carbon dioxide and sunlight, and get our essential OXYGEN as a waste(?!) product….
In fact, did you know OVER 70% of the oxygen in the atmosphere is not produced by trees, but by algae? This means our very lives depend on algae for existence!
"
So the folks at CC are trying to make machines that eat the CO2 and produce O2 – in other words, algae-based oxygen machines!
Interesting post, read the full post here, from Green Options
Nature gave us oil from algae; perhaps we should try Nature's way again
Oilgae; Oilgae Blog; List of Oilgae Blog articles.
algOS – Biodiesel from Algae Open Source
Oilgae has a focus on biodiesel production from algae while also discussing alternative energy in general.