Extraction of Triglycerides from Micro-organisms
Have you seen Oilgae's comprehensive report on the attractive product and business opportunities from algae?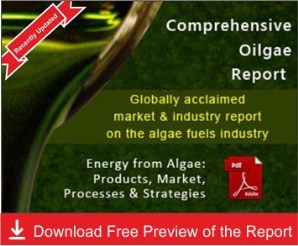 The only report anywhere in the world that scientifically analyses every possible non-fuel product opportunity from algae - in nutrition, animal/fish feed, medicine and pharma, specialty chemicals such as agrochemicals and lubricants, plastics, environmental remediation and more.
Know more about the Comprehensive Algae Business Opportunities report from here .
You are at: Oilgae Blog. See the complete list of Oilgae Blog articles.
Do you know that oil derived from algae is an exciting renewable fuel possibility? – see Oilgae for more.
Extraction of Triglycerides from Micro-organisms
Abstract
Oil is extracted from oil containing microorganisms by disintegrating the microorganisms and contacting them in the presence of a water content of at least 70% by weight of that originally present in the cellular material with a water immiscible solvent for the oil, separating the solvent from the microorganisms and recovering the oil from the solvent.
Patent number: 6180376
Filing date: Jan 20, 1998
Issue date: Jan 30, 2001
Inventor: John Macdonald Liddell
Assignee: Zeneca LimitedPrimary Examiner: Vera Afremova
More details on this patent from here
Nature gave us oil from algae; perhaps we should try Nature's way again
Oilgae – Oil & Biodiesel from Algae
Oilgae Blog; The complete list of Oilgae Blog articles.
algOS – Biodiesel from Algae Open Source
About Oilgae – Oilgae – Oil & Biodiesel from Algae has a focus on biodiesel production from algae while also discussing alternative energy in general. Algae present an exciting possibility as a feedstock for biodiesel, and when you realise that oil was originally formed from algae – among other related plants – you think "Hey! Why not oil again from algae!"