Diatoms with High Oil Content
Have you seen Oilgae's comprehensive report on the attractive product and business opportunities from algae?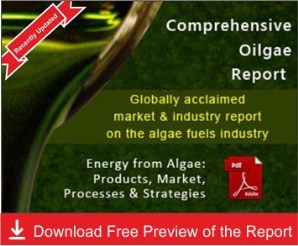 The only report anywhere in the world that scientifically analyses every possible non-fuel product opportunity from algae - in nutrition, animal/fish feed, medicine and pharma, specialty chemicals such as agrochemicals and lubricants, plastics, environmental remediation and more.
Know more about the Comprehensive Algae Business Opportunities report from here .
You are at: Oilgae Blog.
Do you know that oil derived from algae is an exciting renewable fuel possibility? – see Oilgae for more.
Diatoms with High Oil Content
Blair Paul has this query @ Oil from Algae Yahoogroup
"I'm very interested in marine diatoms usage for biodiesel due to the their excellent defenses that allow them to persist during most blooms. Also due to their wide diversity and high storage capacity for oils inside their cytoplasm. I know that most people are focusing on Dunaliela sp. and Botryococcus braunii, where I want to find a diatom that already outpersists and outcompetes the other phytoplankton in the ocean, and is very fatty.
Question – Does anyone know any diatom species that are being looked at? or are extremely fatty? These could be fresh or salt water."
Any one has answers?
Oilgae Academic Edition provides extensive details for researchers on pathways and technologies for alternative energy products – not just biodiesel from algae is presented in the report.
Oilgae – Oil & Biodiesel from Algae
Oilgae Blog
algOS – Biodiesel from Algae Open Source
About Oilgae – Oilgae – Oil & Biodiesel from Algae has a focus on biodiesel production from algae while also discussing alternative energy in general. Algae present an exciting possibility as a feedstock for biodiesel, and when you realise that oil was originally formed from algae – among other related plants – you think "Hey! Why not oil again from algae!"
To facilitate exploration of oil production from algae as well as exploration of other alternative energy avenues, Oilgae provides web links, directory, and related resources for algae-based biofuels / biodiesel along with inputs on new inventions, discoveries & breakthroughs in other alternative energy domains such as solar, wind, nuclear, hydro, geothermal, hydrogen & fuel cells, gravitational, geothemal, human-powered, ocean & wave / tidal energy. We hope Oilgae proves to be useful as a research information & inputs resources, and as a source of news & info for business & trade of algal oil, algal fuels & new alternative energy products – specially with regard to new feedstock / feedstocks, production processes and uses, and market info such as price / prices, data & statistics