How Eating Seaweed Can Help Cows to Belch Less Methane
A graduate student in animal science at the University of California, Davis, Roque is experimenting with a cow named "ginger" and monitors everything from the animals' food rations to the somatic cells in their milk — indicators of inflammation or stress.  The research is into reducing methane emissions from livestock by supplementing their diets with a specific type of seaweed.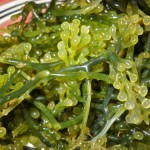 Methane is a potent greenhouse gas, with roughly 30 times more short-term, heat-trapping power than carbon dioxide. In California alone, 1.8 million dairy cows, together with a smaller number of beef cattle, emit 11.5 million metric tons of carbon dioxide equivalent every year — as much as 2.5 million cars.