The Only Available Comprehensive Report on Castor Oil & its Derivatives

Choose one of the below options to access this article

Why a report on castor oil?

Castor oil is one of the most versatile plant oils. Its unique chemical structure makes it useful in a wide number of industries and applications. Castor oil is fast becoming one of the most sought after plant oils, owing to its rich properties and variety of end-uses. Currently, it is being used by industries from pharmaceuticals to lubricants. With biopolymer and bio-fuels industries picking up a lot of steam in the last couple of years, the potential for castor oil to play a much larger role in the world economy had increased dramatically. While the castor oil industry is over five decades old, there has been considerable interest shown in this industry in the last few years. Leading countries from practically every continent (North & South America, Europe, Asia, Africa and Oceania) are showing renewed interest in the castor crop.

While the importance of castor oil has thus increased recently, there is no comprehensive report that addresses all important aspects of castor oil. CastorOil.in, the premier online resource for all things about castor, has hence brought out this report to assist all the professionals in the industry.

The report will be sent to you within one business day of payment. Report purchases made during saturdays, sundays and other hoildays, will be processed on the company's next business day.

The Oilgae team would like to talk to you to understand how we can help you in your algae fuel efforts. If you are interested in purchasing the report or getting our help, talk to us now.
What is exclusive about this report?
There is no other comprehensive report available for castor oil anywhere in the world. This is the first of its kind, and currently, the only one.
CastorOil.in has been interacting with a number of castor oil industry participants for many years now. This list includes manufacturers and processors, castor bean cultivators, castor oil and castor oil derivative chemicals users, economists, machinery suppliers and trade bodies. Using this collective intelligence and inputs gained over these years, CastorOil.in has prepared this comprehensive report.
The Existing Markets and Applications for Castor Oil and Castor Oil Derivatives
Agriculture
Food

Surfactants
Viscosity Reducing Additives
Flavourings
Food Packaging

Textile Chemicals

Textile Finishing Materials
Dyeing Aids
Nylon, Synthetic Fibers & Resins
Synthetic Detergents
Surfactants, Pigment Wetting Agents

Paper

Flypapers
Defoamer
Water Proofing Additive

Plastics & Rubber

Polyamide 11 (Nylon 11) Plastic Films
Adhesives
Synthetic Resins Plasticizers
Coupling Agents Polyols

Cosmetics & Perfumeries

Perfumery Products
Lipsticks
Hair Tonics
Shampoos
Polishes
Emulsifiers
Deodorants Textile Finishing Materials

Electronics & Telecommunications

Polymers for Electronics & Telecommunications
Polyurethanes
Insulation Materials

Pharmaceuticals

Antihelmintic
Antidandruff
Cathartic
Emollient
Emulsifiers
Encapsulants
Expectorant Laxatives & Purgative Surfactants

Paints, Inks & Additives

Inks
Plasticizer for Coatings
Varnishes
Lacquers
Paint Strippers
Adhesive Removers
Wetting & Dispersing Additives
Finishing Materials

Lubricants

Lubricating Grease
Aircraft Lubricants
Jet Engine Lubricants
Racing Car Lubricants
Hydraulic Fluids
Heavy Duty Automotive Greases
Fuel Additives
Corrosion Inhibitors
An insightful Comprehensive Castor Oil Report provides precise inputs for the following questions
What is the current and future potential for castor oil and castor oil derivatives?
What are the various derivatives of castor oil and their applications?
What are the manufacturing processes for various castor oil grades & derivatives?
Which are the prominent companies worldwide for castor oil and derivatives?
What are the prospects of using castor oil for biodiesel? What is the status of castor oil use in biopolymers production?
What are the demand and supply scenarios and the market potential for the various derivatives of castor oil - now, and in future?
What is the scenario of the castor oil industry in India, the largest supplier of castor oil in the world?
What are predictions for the future with regard to challenges, possibilities and breakthroughs?
What are the next steps an entrepreneur should take should she/he be interested in exploring further?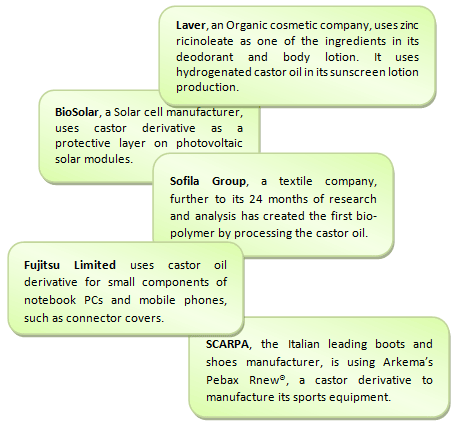 Why should you buy the Comprehensive Castor Oil Report?
It answers the most important questions that entrepreneurs, investors and businesses have regarding castor oil
It provides authoritative and critical inputs on one of the most versatile crops in the world
It informs you in great detail about the various derivatives of castor oil, their production methods and their end-uses
It provides insights from industry professionals worldwide.
It has been developed by CastorOil.in, the definitive and most referenced resource for the castor oil industry
Balanced opinion
The goal of the Comprehensive Castor Oil Report is to present an objective status report on the current and future potential of the castor oil industry. Written by professionals who have been observing the industry for many years and who interact continuously with all the key industry players, the Comprehensive Castor Oil Report will assist you to clearly understand the potential and prospect of the industry.
Sections in the Report:
Castor oil manufacturing - machineries and infrastructure required - this section provides details of the machines that are being used in the castor oil extraction and refining
Castor oil production - volumes, values - provides details on the countries that produce castor oil and the volumes they produce. This section has a special focus on India as this country is by far the largest producer and exporter of castor oil.
Castor oil chemicals & derivatives - comprehensive details provided on the various castor oil derivatives, their chemistry, method of manufacture and their end uses

Castor Meal
Hydrogenated Castor Oil (HCO)

12 Hydroxy Stearic Acid (12 HSA)
Methyl 12 HSA (Hydroxy Stearate Acid)

Blown Castor Oil
COLM (Urethane Grade)
Commercial Grade
BP
DAB-10
Deodorized
European Pharmacopia
Extra Pale Grade
Pale Pressed Grade (PPG)
First Pressed Degummed
Special Grade (First Special Grade (FSG)

United States Pharmacopia (USP)
Industrial Castor Oil
Dehydrated Castor Oil (DCO)
Ethoxylated Castor Oil
Ricinoleic Acid
Sebacic Acid
2-Octanol

C-7

Heptanoic Acid
Heptaldehyde
Heptyl Alcohol (Heptanol)

C 11

Undecylenic Acid
Undecanoic Acid
Undecylenic Aldehyde
Undecylenic Alcohol
Calcium Undecylenate
Zinc Undecylenate
Allyl Undecylenate
Sodium Undecylenate
Methyl Undecylenate
Ethyl Undecylenate

C 18

Prices and price futures - gives historical & current price data for various grades of castor oil and also provides info on the future likely price trends
Castor oil manufacturers - provides an extensive list of the castor oil and castor oil derivatives manufacturers and exporters in the world, with a special emphasis on Indian suppliers
Castor cultivation - provides specific details on the castor crop cultivation, soil, water and climatic requirements, on types of seeds and hybrids available, typical yields.
Castor oil end-uses - provides details on the current and future possible end-uses and end user industries of castor oil.
Biopolymers and castor oil - this section has a specific focus on the future possibilities in biopolymers (such as bio-polyurethane foam) for castor oil.
Castor seeds - this section provides specific details on castor seeds / beans, their prices and their grades / varieties
Castor oil chemistry and composition - specifics on chemistry and MSDS of various castor oil grades and derivatives
Demand-supply situations for various castor oil grades & derivatives - Provides current & future demand-supply estimates for the various grades of castor oil and their derivatives. This will be very useful for entrepreneurs exploring opportunities in the vegetable oils / plant oils domains.
Castor meal / cake - comprehensive details on deoiled castor cake / meal, its uses, composition and supply situation
Castor manufacturers / suppliers - provides a list of prominent castor oil and derivatives manufacturers in India, China and Brazil
Key Take-aways from the Report
Castor oil manufacturing is similar to that of other oil seeds and hence the oil can be manufactured utilizing the existing equipments that are locally available. The castor seeds contain about 48 to 50 percent oil by weight, and the extracted castor oil can be further processed to derive a number of derivatives, currently used in numerous industrial applications.
India has exported a record high of nearly 400000 tonnes of castor oil in 2010 as a result of heavy demands from importers abroad.
During 2011, oil export has fallen significantly due to high cost of raw material and reduced imports from countries like China and USA.
India is the largest producer of castor seeds in the world with China and Brazil being the next two. It exports about 15,000 T of castor seeds per year
India contributes about 1.5 million tons of castor seed with and over 500,000 tons of castor oil to the world total production during 2011-12. The annual domestic consumption of castor oil in India is only about 120,000-140,000 tons in the same period. Of this, the soap industry consumes about 25,000 tons, the paint and allied industries 35,000 tons and the lubricant and derivatives industry 20,000 tons.
The global market for generation II castor oil derivatives is estimated at about $300 million. For generation III derivatives, where half of the generation II derivatives are converted, the estimated market worth is close to $350 million.
Paint industries greatly rely on resins derived from castor oil to occupy 20% of total domestic consumption in India. Cosmetics, perfumeries and rubeer & plastic units consume it equally and castor oil driven chemical derivatives help them to manufacture diverse personal care items and bio-polymers etc. As pharmaceutical and others like biofuel units currently produce only limited goods with castor oil, they occupy least share in domestic usage of this industrial oil.
While castor oil is popular in itself, its various derivatives and their unique properties and consequent applications make castor oil even more important in the plant and vegetable oils hierarchy.
While castor oil by itself is used in diverse applications, chemical derivatives of castor oil find further uses in industrial applications and their domains of use are increasing rapidly.
Like other vegetable oils and animal fats, castor oil is a triglyceride, which chemically is a glycerol molecule with each of its three hydroxyl group esterified with a long chain fatty acid. Apart from ricinoleic acid, the other fatty acids present are linoleic (4.2%), oleic (3.0%), stearic (1%), palmitic (1%), di-hydroxystearic acid (0.7%), linolenic acid (0.3%), and eicosanoic acid (0.3%).
By the end of 2009, global demand for sebacic acid was around 140,000 metric tonnes per annum
European Union imports over 1,00,000 tons of castor oil annually, and almost all its imports are from India.
Fuerst Day Lawson is one of the leading Castor Oil suppliers in Europe with over 40 years experience buying directly from the producers in India, China and Brazil. The company supplies castor oil into Europe and China, selling approximately 40,000 MT per year via storage tanks in Rotterdam and Marseille, and via direct deliveries in flexitanks and drums.
Because of its higher polar hydroxyl groups, castor oil is not only compatible with but will also plasticize a wide variety of natural and synthetic resins, waxes, polymers and elastomers.
Castor oil and its derivatives today find major application in soaps, lubricants, grease, hydraulic brake fluids, paints, polymers, perfumery products, surfactants, surface coatings and inks, telecom & engineering plastics, pharma, rubber chemicals, polishes, flypapers, and cosmetic derivatives.
Companies such as BASF produce plastics from renewable resources which contains about 60 per cent sebacic acid – a derivative of castor oil.
The world's largest single use of castor oil in one product, outside the lubricants markets, is in the manufacture of polyamide 11 (Nylon 11). The commercially available polyamide made from castor oil is Arkema's (earlier Atofina) Rilsan Nylon 11.
Some factors to watch out for regarding castor oil prices: (a) Production has increased by over 50% between 2009-2012 and a maximum yield per unit hectare was noticed during 2011-12 (b) World demand for castor oil is increasing @ 3-5 % per annum (c) Export demand expected to increase significantly in future
The castor oil market price experiences significant volatility. Uncertain oil supply, recent development of substitutes, long storing periods & hoarding are the main reasons for the price fluctuations. In spite of these factors, there is invariably a minimum quantity of this commodity that is consumed annually by advanced countries.
The most suitable soils for castor are deep, moderately fertile, with slightly acidic conditions, well drained, sandy loams. The fertilizer dose recommended for castor is 40 N-40 P-20 K kg/ha. The minimum rainfall needed by the castor crop is 38-50 cm (15-20 in.) Some of the high yielding castor varieties used in India are NPH-1 (Aruna), GAUCH-4, and TMVCH.
While castor is an important crop known for its versatility of uses, in many parts of the western world, including the US, the crop is not planted on a large scale. The main reason for this is the ricin, a toxin present in the seed coat. Besides the ricin toxin, there's another compelling reason why this crop has fallen out of favor with growers. The shiny, beetle-shaped seeds contain powerful allergens. People who work with the off-white meal ground from castor beans may develop allergic reactions, such as hives or asthma.
The crop must have sufficient moisture during its growing period. In Brazil 2,400 cu.m of water is applied during the 3 months between flowering and harvest, with about 400 cu.m being applied at 15 day intervals. Furrow irrigation is preferred, but adoption of sub-irrigation has been found to reduce weed problems
Castor beans are graded based on moisture content, percentage of cracked and broken seeds, and amount of foreign material. The allowable moisture content is 6 per cent.
The varieties of castor differ in the branching habits of plant, colour of the stem and branches (red and green), the nature of capsules (smooth or shiny), duration (early or late) and the size of seed.
Average seed yields range from 900–1000 kg/ha under irrigation, and 500 kg/ha without adequate moisture. Some improved open-pollinated varieties in Brazil yield 1,300 kg/ha, with exceptional yields up to 5,000 kg/ha. Average Indian yields are about 1000 kg/ha. Under exceptional circumstances in the state of Gujarat in India, seed yields of 6000 Kg / hectare have been recorded, but it should be noted that these yields have been registered only for some limited growth areas.
India exported approximately 3,40,000 tons of castor meal in 2011-2012. About 1,00,000 tons are consumed within the country, in the form of fertilizers and as fuel.
Table of Contents
Chapter 1 - Castor Oil Manufacturing
1.1 Key Manufacturing Processes for Castor Oil & Derivatives
1.1.1 Castor Oil Manufacturing Processes - Summary
1.1.2 Castor Oil & Derivatives Manufacturing Processes - Details
1.1.2.1 Castor Oil Extraction - Details
1.1.2.2 Castor Oil Filtration - Details
1.1.2.3 Castor Oil Refining - Details
1.1.2.4 Typical Sections & Sub-sections of Castor Oil Refinery Plants
1.1.2.5 Castor Oil Grades & Derivatives Production
1.2 Indicative Costs for Setting up Small and Medium Scale Castor Oil & Derivatives Manufacturing Plants
Chapter 2 - Castor Oil Market
2.1 The Castor Oil Market
2.2 Supply & Demand of Castor Oil
2.2.1 Castor Oil Supply Data
2.2.2 Demand & Consumption of Castor Oil
2.3 Indian Castor Oil Industry
2.3.1 Castor Oil Exports - Historical Scenario
2.3.2 Castor Oil Exports - Current Scenario
2.3.3 Castor Seed Production & Acreage in India
2.3.4 India-wide Data from Castor Crop Survey 2007-08
2.3.5 Cropping Season in India
2.3.6 Castor Cultivation & Yields in India - Points
2.4 Demand-Supply Estimates for Castor Oil Derivatives
2.4.1 Current Demand-supply Estimates for the Various Grades of Castor Oil and Derivatives
2.4.2 Future Demand-supply Estimates for the Various Grades of Castor Oil and Derivatives
Chapter 3 - Castor Oil Chemicals & Derivatives
3.1 Properties & Chemical Composition of Castor Oil
3.2 Chemical, Physical Properties & Specifications of Castor Oil Grades & Derivatives
Chapter 4 - Castor Oil Prices
4.1 Historical & Current Price Data for Castor Oil, Castor Seeds
4.2 Castor Oil and Castor Seed Price Volatility
4.3 Factors that Affect Prices
4.4 Castor Oil Futures Market
Chapter 5 - Castor Cultivation
5.1 Castor Crop Sowing
5.2 Castor Crop Growth
5.3 Castor Crop Harvest
5.4 Castor Cultivation Seasons
5.5 Castor Seed Grades & Varieties
5.6 Yields for Castor Seeds and Castor Oil from Seed
5.7 Castor Cultivation FAQ
Chapter 6 - Castor Oil End-uses
6.1 Current End-uses for Castor Oil and Derivatives
6.1.1 End Uses - by Castor Oil Grade / Derivative
6.1.2 Castor Oil & Castor Oil Derivatives Uses - By Industry
6.2 Future Possible End-uses and End User Industries for Castor Oil and Derivatives
6.2.1 Biopolymers and Castor oil
6.2.2 Castor Oil as a Feedstock for Biodiesel
6.2.3 Other Possible Future Uses
Chapter 7 - Castor Seeds
7.1 Castor Seeds Production & Supplies
7.2 Castor Seeds Prices & Trends
7.3 Castor Seeds Packaging & Storing
7.4 Castor Seed Varieties
7.5 Castor Seed Factoids
Chapter 8 - Castor Meal
8.1 Castor Meal Uses
8.2 Castor Meal Composition
8.3 Castor Meal Supply & Demand
8.4 Toxicity in Castor Meal
8.5 Energy Content in Castor Meal
8.6 Castor Meal - Other Points
Chapter 9 - Castor Oil Distribution & Logistics
9.1 Castor Oil Storing & Packaging
9.1.1 Castor Oil Storage
9.1.2 Castor Oil Packaging
9.1.3 Castor Oil Shelf Life
9.2 Castor Oil Transportation & Logistics
9.2.1 Distribution from Farms to Refinery
9.2.2 Transport
9.2.3 Cargo Handling
9.2.4 Density & Volume Expansion
9.2.5 Cargo Securing
9.2.6 Risk Factors & Loss Prevention
Chapter 10 - Prominent Castor Oil Producers
10.1 Producers in India
10.2 Producers in China
10.3 Producers in Brazil
10.4 Other Suppliers
Purchase the Report Now

Price: US $850


(Click on the buy now button to order a copy of the Comprehensive Castor oil report)

Free ebook Preview




To download a copy of the preview to your machine , click here

If you are interested in knowing more about Comprehensive Castor Oil Report, please send a note to Sindhu - email: muthukrishnan@eai.in